Emma Velez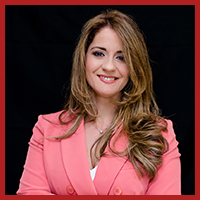 Emma held a career in advertising, working in print media, radio, and television for some of the biggest communication companies in the United States, such as Cox Enterprises and iHeart Media. In 2010, she decided to follow her business entrepreneur dreams. She founded Tres Communications, a full-service advertising, and marketing agency where she serves her client base with a wide variety of services from traditional to digital media.
Emma loves coming into work because of the brilliant, visionary, and creative people she gets to work with every day. Her daily thinking revolves around clients, brands, marketing challenges, and consumers. One of the things she values most is the opportunity to work with a variety of industries. From pediatricians to car dealerships, animal clinics, and attorneys (to name a few).
She is part of the Florida Hispanic Chamber of Commerce of Palm Beach County, where she serves as Director of Public Relations. Emma is also a board member of the Hispanic Education Coalition of Palm Beach County, where she serves as Director of Communications.
She earned a Bachelors's degree in Arts of Communications with a concentration in management, where she graduated magna cum laude from the Sacred Heart University of Puerto Rico. She also earned a Master of Science degree in Mass Communications from Florida International University.
She was born and raised in Arecibo, Puerto Rico, where she travels to enjoy her culture and people. Emma is married and has two daughters.