Veronica Vidal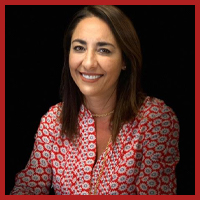 Veronica Vidal is the Founder and CEO of Custom Cleaning and Management Services (CCMS) a Cleaning Contractor this year celebrating 16 years of doing business in South Florida, head-quartered in Palm Beach County.
Immigrating from Argentina, she arrived in 2001 with a Bachelor's Degree and Master's in Stage Design and Critic of Visual Arts carrying her passion for creating and transforming space. With this skillset, Veronica has lead CCMS' growth and development with an investment of US$50.00 from a small residential cleaning service to a full-service enterprise including multiple commercial accounts, construction cleaning on small to large iconic projects in South Florida with national general contractors, along with solar panel cleaning and high-rise solutions.
In 2018 looking for another growth opportunity supported by extensive research on the international and national markets Veronica created a new division within her business call ULTIMATE PREVENTION® infection control and prevention–sanitation solutions which placed CCMS ahead of the game during the first quarter of 2020 during Covid-19.
Currently, the company is working on the addition of robotics for its operations as part of her tireless efforts searching for differentiation and innovation which will be expected to be a success in the first quarter of 2021 concurrently with the acquisition of another commercial cleaning company scheduled for January 2021.
As a persistent entrepreneur, Ms. Vidal explained that part of the success resides in taking full advantage of the free training, education, and certifications early on her carrier provided by incubator agencies for small businesses as well as certifications with various cities, counties, school boards, and other Federal Agencies.
As the result of Ms. Vidal's forward-thinking and positioning with colleagues as well as in the business communities she has been granted distinguished opportunities with education in the areas of Leadership and Business Strategies at the Jim Moran Institute (Florida State University), Latino Entrepreneur Scaling Strategies (Stanford University), 10K Small Businesses (Goldman Sachs Foundation) and engaging new opportunities in 2020 at the Harvard University -Harvard Business School in the CME program Certificate of Management Excellence.
Ms. Vidal currently serves on the Advisory Board for Palm Beach State College Board of Directors for the Puerto Rican Hispanic Chamber of Commerce, Hispanic Chamber of Commerce where she was recently appointed to be its representative in Washington, DC for the Small Business legislature Summit. She also serves on The Board of Director Florida Hispanic American Chamber of Commerce, Former Board of Directors for the National Association of Women in Construction – Chapter Greater Palm Beach and her recent nomination for the Advisory Committee for Government Affairs for ISSA -International Supply Sanitary Association which is present in Europe, Asia, North, and Latin America in more than 100 countries with more than 10,000 business members.
Veronica states that her mission is to help strengthen the participation of Hispanic and women-owned businesses in the community. She believes that providing education along with real and meaningful opportunities are key for expanding the footprint of these businesses that will enhance the process of building bright, prosperous and advancements in the communities.
Based on her believes she is a proud Advisory Committee Member -Seat # 2 " Certified Hispanic Business Owner " – for the Office of Equal Opportunity in Palm Beach County supporting its official mission to promote a discrimination-free quality of life for Palm Beach County residents through educating and advocating a policy of nondiscrimination and enforcing local, state and federal civil rights laws.